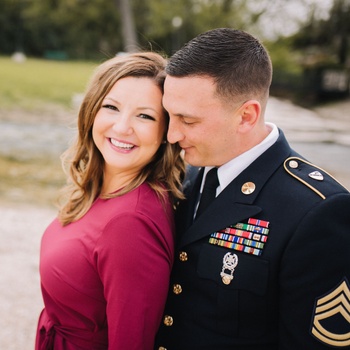 Blake & Jennifer's Story

In early 2018, Blake made a move from Fort Lewis, Washington down to Fort Hood, Texas. Little did he know what he was about to get himself into! During this same time, Jennifer was living in Gatesville, Texas, a small town outside of Waco. Both of them were in their 30's and single. With Blake now living in a new state and Jennifer lonely in the small town, they both turned to the wonders of the internet to boost their dating lives. All it took was one swipe right (No, not Tinder). After exchanging a few text messages and engaging in conversation, they decided to meet up for dinner and drinks...in a public setting. They were like peas and carrots from that moment on. Jennifer even texted her sister, Carrie the next day and informed her that she had gone on a date with her future husband. Of course, at this point, no one took it seriously.

It also was not a "happily ever after" after meeting. Shortly, after beginning to date, Jennifer accepted a job offer down in Houston resulting in her moving 3 hours away. She said "if it's meant to be, it'll work out" and hoped for the best. Around that same time, Jennifer's mom was diagnosed with Stage IV breast cancer and was given only a short time left to live. Between the long distance and strains in time spent together, the couple decided to take a break. Jennifer needed to focus on her family and Blake...well, he just had some thinking to do!

About a month went by and Blake realized he just couldn't get his Texas girl off his mind. Being apart drove him crazier than the ups and downs they experienced together. It was in that moment, he realized Jennifer was the girl for him. They quickly got back together and Blake even got to spend some time with Jennifer's mom in her final days. Over the past six months, the couple has grown closer to one another and Blake even took Jennifer home to Kansas City over the holidays. Everyone hoped he would pop the question then, but in typical Blake fashion, he did it in his own timing, his own way.

On February 15, 2019, Blake took Jennifer out to recreate their first date. When they arrived to the last restaurant, The Gin at Nolan Creek in Belton, TX, the hostess escorted the couple to a private balcony with a table draped in a white table cloth. Since they had the whole balcony to themselves, Blake asked Jennifer to dance. She laughed and obliged. It was right at sunset on a beautiful day. He asked her to put their favorite song on - "Beyond" by Leon Bridges ft. Luke Combs. When Jennifer turned back around, Blake was down on one knee with the most beautiful diamond ring Jennifer had ever seen. Jennifer squealed out "OMG YES!!" before hugging and kissing Blake for a solid 10 minutes. They were both over the moon filled with excitement! It was the perfect ending to a perfect day.

The couple is beyond excited to start their life together. Jennifer is looking forward to moving up to Killeen and learning the ropes of being an Army wife. The two of them are even more excited to get to share their wedding festivities with all of the ones they love from across the country, near and far this November!